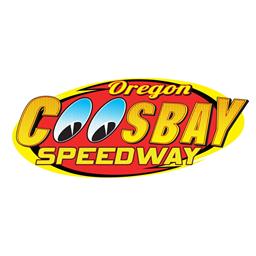 4/27/2022
Coos Bay Speedway
---
Coos Bay Speedway Back In Action For Street Stock Special April 30
Coos Bay, OR, (04/27/2022) After a couple weeks of inclement weather, Coos Bay Speedway is set to host a 6 division NASCAR tilt this Saturday Night, headlined by a special $500 to win Street Stock Main Event.
Last time out, it was a McIntyre family affair upfront in the 3 Rivers Casino Street Stocks, with Loren McIntyre wheeling his new #13 to victory lane, with brother Toby following close in 2nd and father Kelly taking 5th in his return to the speedway. With the extra money on the line and a few drivers making their first start of 2022 this weekend, a strong car count to match or beat last week's 17-car turnout is highly probable.
In the America's Mattress Super Late Models, Hometown favorite Preston Luckman put on an impressive display en route to a dominant win. With a couple of rumored season debuts, there's hope that car counts go up for the class this weekend.
Speaking of family domination, it was all about the Emry's in the last event's Sportsman feature. Ryan led all 20 laps on his way to another win, while young Jacob Emry posted a career-best 2nd to his father. With Jacob really beginning to show speed, might this be the week he finally beats his father, or might one of the likes of Dustin Hitner or Josh Kralicek breakthrough for their first win of 2022?
The ever consistent Hornet division matched the Street Stocks for the highest car count last time out with 17, with Washington visitor Don Briggs Sr outlasting a persistent Dan Beaudoin to claim an entertaining win. A new winner is guaranteed this weekend, leaving the likes of Beaudoin, Hannah Robison, former Street Stock champ Ken Fox and more to battle it out for the win Saturday night.
The Mini Outlaws once again provided some of the closest racing the last time they hit the track, with the win not being decided until the final corner, with Mike Beaudoin coming out on top after Jeff Thurman bowed out late. With a strong 12-car showing on opening night, the hope is for another strong turnout this weekend.
The first Jr Stinger event of the season provided plenty of drama with Drake Vincent making a late move for the lead and holding off a hard-charging Cameron Metzgus. One driver looking for some retribution will be Tucker Dubisar. Tucker led the opening 12 circuits of the last race, but faded late for a 4th place finish. With some new faces in the field and some emerging faces, who knows who'll come out on top Saturday night.
Grandstands Open at 4PM
Racing Starts at 6:30PM
General Admission
Adults $12
Seniors and Kids (7-17) $10
Children 6 and under FREE
Family Pass (2 Adults and 3 Kids) $35
For more information including our 2022 schedule and more, head on over to the official webpage of Coos Bay Speedway at http://www.coosbayspeedway.us/ or on your mobile device via the MyRacePass app.
---
Article Credit: DRC Motorsports Media
Submitted By: Drake Nelson
Back to News