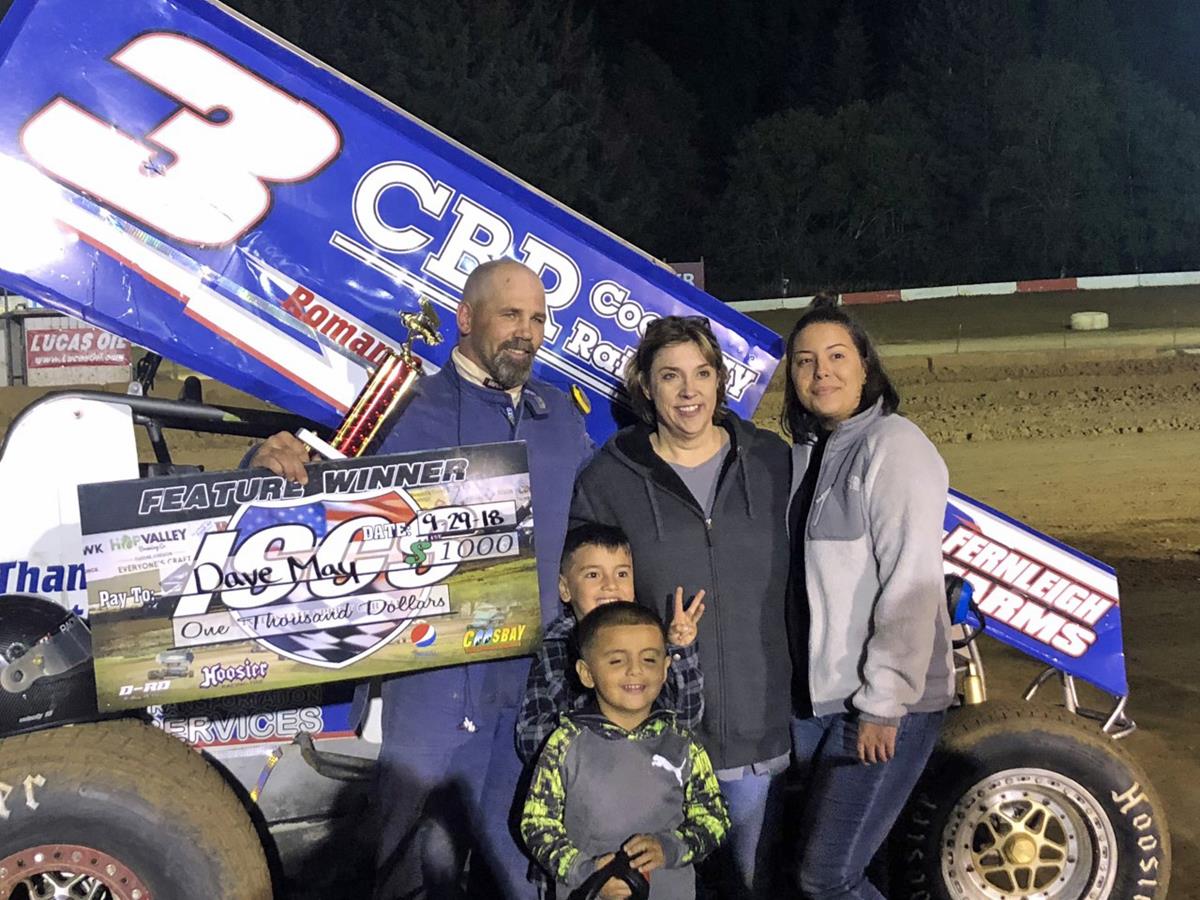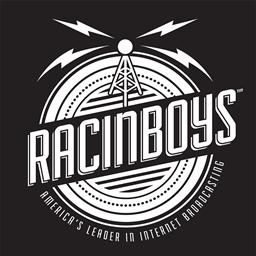 ---
Dave May Wins Coos Bay Thriller With ISCS; Tyler Thompson Collects Title
By Ben Deatherage (Coos Bay, OR) -- All roads led to Coos Bay Speedway on Saturday, September 29th, for the Interstate Sprint Car Series. The "Clay By The Bay Of The West" hosted the final leg to the 2018 campaign for the group and an impressive twenty-nine entries filled the pit area. The American states of Oregon, Washington, and California were represented along with the Australian state of New South Wales.
PHOTO CREDIT: Stephanie Deatherage
Dave May took complete advantage of his inside front row starting position in the main event. Despite several stoppages, including a massive wreck on the opening lap that took seven cars out of contention, May mastered the restarts. There were a number of occasions in which he felt an enormous amount of pressure from challengers but every time he managed to keep them all in check. Dave May, originally from Santa Rosa, California but now residing in Walton these days, lead every single lap to win his first career ISCS feature for himself and car owner Chuck Prather.
Cottage Grove's Kinzer Cox placed second over third finishing Shane Forte, of Junction City. The balance of the top five consisted of Tyler Thompson, from Harrisburg, in fourth over Medford's Camden Robustelli, in fifth.
Qualifying was split into four groups with Roseburg's Kyler Barraza, McKenzie Bridge teenager A.J. Harbaugh, Shane Forte, and Sutherlin pilot Cooper Desbiens all setting fast time. Heat race wins went to Kyler Barraza, Roseburg rookie R.C. Levin, Grass Valley, California traveler Donovan Prather, and Dave May. A consolation feature was run with Central Point driver Truman Winningham getting the job done for car owner Chuck Prather.
When all the dust was settled Tyler Thompson managed to win the 2018 Interstate Sprint Car Series championship. In the last race a mere twenty-seven markers separated him and second place in the points. Despite starting fifteenth in the main event he managed to bounce back to a fourth place result.
We want to thank all of the wonderful drivers, teams, fans, and staff for such a successful return of this series and look forward to 2019. The ISCS series would also like to thank their series sponsors/marketing partners BC Motorsports, Highline Performance, NWSprintCarHistory.com, Champion Racing Oil, and Hoosier Racing Tires. For the latest news and updates regarding the Interstate Sprint Car Series be sure and visit their Facebook page.
Interstate Sprint Car Series Race #12
Saturday, September 29th, 2018
Coos Bay Speedway
Coos Bay, Oregon
Qualifying Group 1: 1. 87-Kyler Barraza; 2. 7-Tyler Thompson; 3. 7K-Kayla Green; 4. 12-Steven Snawder; 5. 66T-Tyrell Mead; 6. 54-Brett Hulsey; 7. 39-Justin Walker; DNQ 32-Daysen Thomas
Qualifying Group 2: 1. 18H-A.J. Harbaugh; 2. 1K-Kinzer Cox; 3. 3B-Ian Bandey; 4. 10K-Don Waddell; 5. 99-Lawrence Van Hoof; 6. 71R-R.C. Levin; 7. 8-Ricky Hulsey
Qualifying Group 3: 1. 26F-Shane Forte; 2. 871-Hedge Carter; 3. 9-Matthew Calvert; 4. 66B-Brett McGhie; 5. 76-Truman Winningham; 6. 15-Donovan Prather; 7. 4-Justin Tracy
Qualifying Group 4: 1. 4D-Cooper Desbiens; 2. 18T-Tanner Holmes; 3. 25S-Camden Robustelli; 4. 3F-Scott Fox; 5. 3-Dave May; 6. 6R-Morgan Burks; DNQ 10J-Jake Waddell
Heat Race 1: 1. 87-Kyler Barraza; 2. 66T-Tyrell Mead; 3. 12-Steven Snawder; 4. 7K-Kayla Green; 5. 7-Tyler Thompson; 6. 54-Brett Hulsey; 7. 39-Justin Walker; DNS 32-Daysen Thomas
Heat Race 2: 1. 71R-R.C. Levin; 2. 18H-A.J. Harbaugh; 3. 1K-Kinzer Cox; 4. 99-Lawrence Van Hoof; 5. 8-Ricky Hulsey; 6. 10-Don Waddell; 7. 3B-Ian Bandey
Heat Race 3: 1. 15-Donovan Prather; 2. 26F-Shane Forte; 3. 66B-Brett McGhie; 4. 76-Truman Winningham; 5. 9-Matthew Calvert; 6. 871-Hedge Carter; 7. 4-Justin Tracy
Heat Race 4: 1. 3-Dave May; 2. 18T-Tanner Holmes; 3. 25S-Camden Robustelli; 4. 3F-Scott Fox; 5. 4D-Cooper Desbiens; 6. 6R-Morgan Burks; DNS 10J-Jake Waddell
B-Feature: 1. 76-Truman Winningham; 2. 871-Hedge Carter; 3. 3B-Ian Bandey; 4. 54-Brett Hulsey; 5. 4-Justin Tracy; 6. 6R-Morgan Burks; 7. 39-Justin Walker; 8. 9-Matthew Calvert; 9. 99-Lawrence Van Hoof; DNS 10J-Jake Waddell; DNS 10-Don Waddell; DNS 8-Ricky Hulsey; DNS 32-Daysen Thomas
A-Feature: 1. 3-Dave May; 2. 1K-Kinzer Cox; 3. 26F-Shane Forte; 4. 7-Tyler Thompson; 5. 25S-Camden Robustelli; 6. 4D-Cooper Desbiens; 7. 66B-Brett McGhie; 8. 66T-Tyrell Mead; 9. 3F-Scott Fox; 10. 3B-Ian Bandey; 11. 76-Truman Winningham; 12. 54-Brett Hulsey; 13. 71R-R.C. Levin; 14. 15-Donovan Prather; 15. 12-Steven Snawder; 16. 7K-Kayla Green; 17. 18H-A.J. Harbaugh; 18. 18T-Tanner Holmes; 19. 871-Headge Carter; 20. 87-Kyler Barraza
---
Submitted By: Kirk Elliott
Back to News