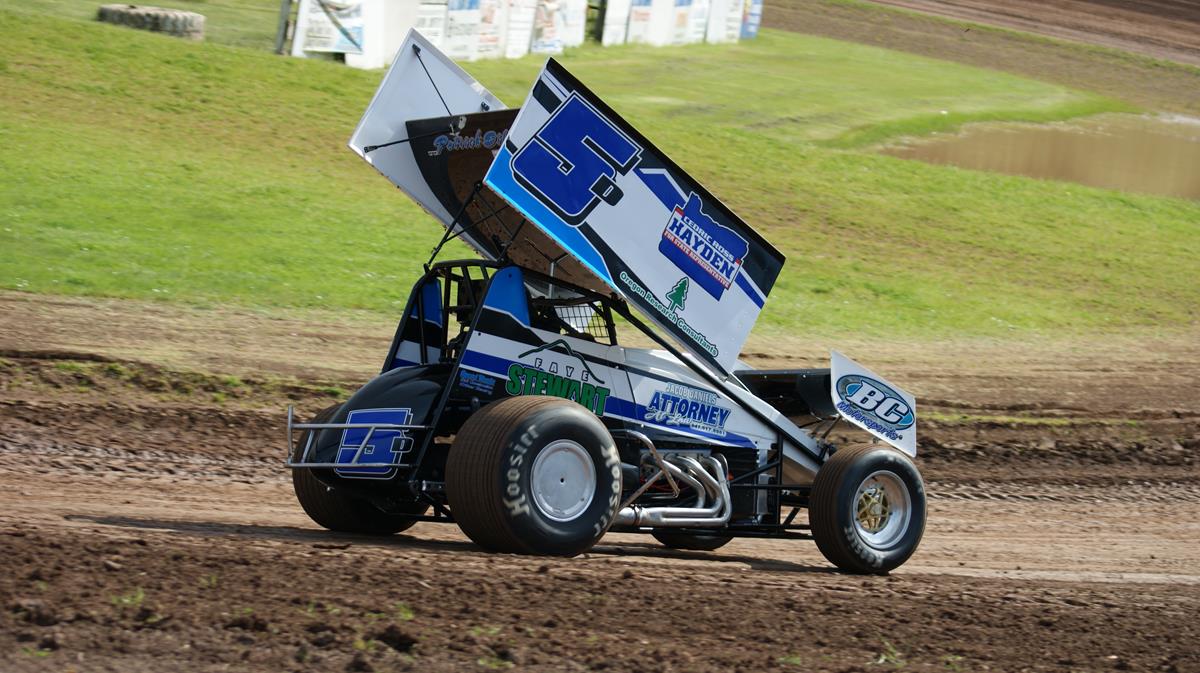 9/7/2016
Inside Line Promotions
---
Dills Flips While Racing for Lead at Coos Bay Speedway
(Photo by Dirt Monkey Productions)
Inside Line Promotions – COOS BAY, Ore. (Sept. 7, 2016) – Patrick Dills ended the 2015 season in Victory Lane.
Unfortunately, he capped the 2016 season on the hook. Dills flipped for the first time of the season last Saturday at Coos Bay Speedway to close the year with a DNF.
"It was a bummer to end the season like that, but we showed improvement at that track," he said. "We've struggled a lot at Coos Bay. This was our first time there with this new car. We changed some gears and qualified third."
Dills continued to run strong after qualifying third quickest. He advanced from sixth to third place in a heat race and won the dash after starting on the outside of the front row. The feature was inverted by eight, which lined Dills up on the inside of the fourth row for the 25-lap main event.
"We started pretty far back and I think with 10 or 15 laps in I was up to third," he said. "I was running the top and there was a yellow. There was a lapped car between me and second place. After the restart I drove around the lapped car and I was right on second and first. You could have thrown a blanket over us. I went to follow the leader into turn three and I hooked a rut and it biked up and the right front caught and we went for a ride."
Dills was in contention for his third win of the season and first career at Coos Bay Speedway when the late flip resulted in a 12th-place result.
"I felt like we could have won," he said. "Nobody else was running the top like I was. That's just part of racing. We're already preparing for next year."
QUICK RESULTS –
Sept. 3 – Coos Bay Speedway in Coos Bay, Ore. – Qualifying: 3; Heat race: 3 (6); Dash: 1 (2); Feature: 12 (7).
SEASON STATS –
21 races, 2 wins, 8 top fives, 12 top 10s, 16 top 15s, 20 top 20s
UP NEXT –
SEASON FINISHED
MEDIA LINKS –
Facebook: https://www.facebook.com/pages/Patrick-Dills-Racing/236840896439816?ref=br_tf
Twitter: https://twitter.com/PatrickDills90
Website: http://www.PatrickDillsRacing.com
SPONSOR SPOTLIGHT – BC Motorsports
BC Motorsports is owned and operated by sprint car veteran Brian Crockett, who has numerous wins and championships under his belt. Crockett owns a parts business and is also the Western Sprint Tour competition director among other duties in the racing industry.
"When I started racing Brian Crockett made it possible," Dills said. "He has a lot of knowledge about race cars and is one of the smartest guys I know. It's nice to have him in my corner."
Dills would also like to thank Jerry Dills Trucking, Jacob Daniels Attorney at Law, Cedric Ross Hayden Oregon State Representative, Faye Stewart for U.S. Senate, Oregon Research Consultants, API, Bonnichsen Repair, Devine Continuous Gutters, M.D. Yearous Logging, Inc., Lynn Mulligan Trucking, Rocket Designs, Dirt Monkey Productions and Inside Line Promotions for their continued support.
INSIDE LINE PROMOTIONS –
Inside Line Promotions specializes in affordable public relations and media management for motor sports drivers, teams, sponsors, tracks, series, events, organizations and manufacturers. ILP Founder Shawn Miller leverages professional journalism with new media technologies and social networking to improve your exposure and the return on investment for your sponsors.
To meet the media relations needs of your program by joining Team ILP, contact Shawn at 541-510-3663 or Shawn@InsideLinePromotions.com. For more information on Inside Line Promotions, visit http://www.InsideLinePromotions.com.
---
Article Credit: Inside Line Promotions
Submitted By: Shawn Miller
Back to News