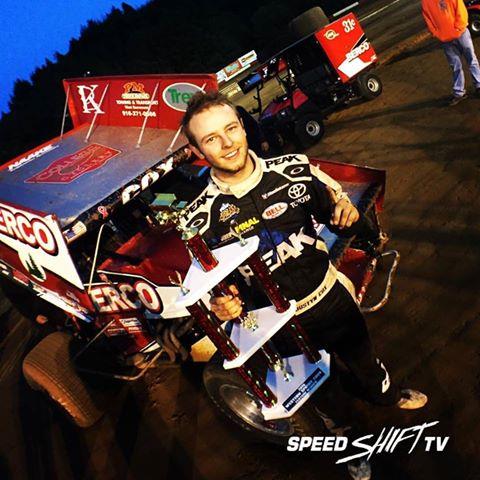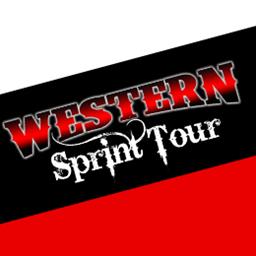 7/7/2016
Western Sprint Tour
---
Justyn Cox Triumphant In Speedweek Northwest Race #4 At Coos Bay
Justyn Cox Triumphant In Speedweek Northwest Race #4 At Coos Bay
By Ben Deatherage
(Photo Courtesy of Speed Shift TV)
Coos Bay, Oregon- Speedweek Northwest would head to Coos Bay Speedway on Wednesday, July 6th for the fourth race of the 2016 schedule. A total of nineteen cars would make the trip from Oregon, Washington, and California as well as the Canadian provinces of British Columbia and Alberta and also the Southland region of New Zealand.
In the main event, Justyn Cox would take the lead but a red flag incident would bring about a complete restart. On the second attempt, it would again be Cox with the top spot. The Clarksburg, California native would set a torrid pace.
Cox managed to decisively handle the slower traffic and did not get held up by them. It allowed him to build a sizeable lead. A late race caution would bunch the field up one last time but Cox stayed out in front for the win. It would mark Cox's second career Speedweek Northwest victory and he became the third different winner in four races.
Quilcene, Washington's J.J. Hickle would be second followed by Jake Wheeler, of Central Point, in third. The rest of the top five included fourth finishing Trey Starks, out of Puyallup, Washington and driving for car owners Doug and Kathy Rutz, while fifth went to Steven Tiner of Visalia, California.
J.J. Hickle was fast time of the night during the evening's time trials. Heat race were won by Trey Starks, Justyn Cox, and Jake Wheeler. The winner of the trophy dash was Justyn Cox which put him on the pole for the main event.
Speedweek Northwest takes Thursday, July 7th off before they return to action on Friday the 8th at Siskiyou Motor Speedway in Yreka, California. It marks the one and only race of the schedule that takes Speedweek into the Golden State. For the latest news on Speedweek Northwest visit sprints.nwextremeseries.com.
Race Summary:
Speedweek Northwest Race #4
Wednesday July 6th, 2016
Coos Bay Speedway
Coos Bay, Oregon
A Feature 1: 1. 31C-Justyn Cox; 2. 3-J.J. Hickle; 3. 21WR-Jake Wheeler; 4. 8R-Trey Starks; 5. 94-Steven Tiner; 6. 5H-Cory Eliason; 7. 42X-Herman Klein; 8. 37-Mitchell Faccinto; 9. 2JR-Kelly Miller; 10. 26F-Shane Forte; 11. 5D-Patrick Dills; 12. 1B-Chelsea Blevins; 13. 51-Bricen James; 14. 5-Brian Boswell; 15. 99-Lawrence Vanhoof; 16. 5B-John Black; 17. 3M-Dave May; 18. 44NZ-Daniel Anderson; (DNS) 77-Kyle Hirst
Dash: 1. 31C-Justyn Cox; 2. 21WR-Jake Wheeler; 3. 3-J.J. Hickle; 4. 94-Steven Tiner; 5. 8R-Trey Starks; 6. 42X-Herman Klein
Heat 1: 1. 8R-Trey Starks; 2. 26F-Shane Forte; 3. 3-J.J. Hickle; 4. 51-Bricen James; 5. 1B-Chelsea Blevins; 6. 5H-Cory Eliason; (DNS) 77-Kyle Hirst
Heat 2: 1. 31C-Justyn Cox; 2. 2JR-Kelly Miller; 3. 5-Brian Boswell; 4. 5D-Patrick Dills; 5. 1B-Chelsea Blevins; 6. 5H-Cory Eliason
Heat 3: 1. 21WR-Jake Wheeler; 2. 42X-Herman Klein; 3. 94-Steven Tiner; 4. 37-Mitchell Faccinto; 5. 3M-Dave May; 6. 5B-John Black
Qualifying: 1. 3-J.J. Hickle; 2. 5H-Cory Eliason; 3. 94-Steven Tiner; 4. 8R-Trey Starks; 5. 1B-Chelsea Blevins; 6. 37-Mitchell Faccinto; 7. 51-Bricen James; 8. 31C-Justyn Cox; 9. 42X-Herman Klein; 10. 44NZ-Daniel Anderson; 11. 2JR-Kelly Miller; 12. 21WR-Jake Wheeler; 13. 26F-Shane Forte; 14. 5D-Patrick Dills; 15. 3M-Dave May; 16. 99-Lawrence Vanhoof; 17. 5-Brian Boswell; 18. 5B-John Black; (DNS) 77-Kyle Hirst
Speedweek Northwest Points (Top Ten):
5H-Cory Eliason 348; 2. 94-Steven Tiner 337; 3. 8R-Trey Starks 310; 4. 31C-Justyn Cox 299; 5. 21WR-Jake Wheeler 261; 6. 2JR-Kelly Miller 255; 7. 3-J.J. Hickle 224; 8. 44NZ-Daniel Anderson 219; 9. 37-Mitchell Faccinto 218; 10. 26F-Shane Forte 212
---
Submitted By: Ben Deatherage
Back to News