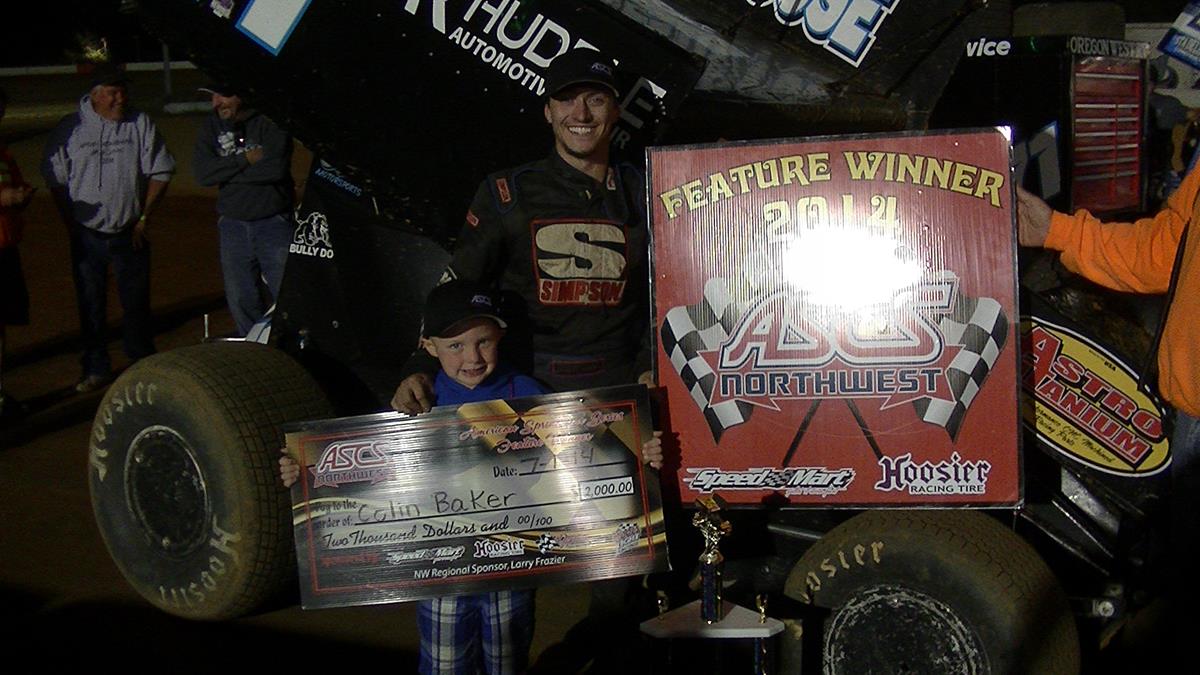 7/2/2014
ASCS Northwest Region
---
Colin Baker Gets Big Win At Coos Bay Speedway For Round Three Of Speedweek Northwest
Colin Baker Gets Big Win At Coos Bay Speedway For Round Three Of Speedweek Northwest
By Ben Deatherage
(Photo Courtesy of Northwest Racing Productions)
The temperatures were perfect for drivers, teams, and fans alike as the American Sprint Car Series-Northwest Region would visit Coos Bay Speedway on the Oregon Coast on Tuesday July 1st. Thirty cars were on tap for an exciting race representing the states of Oregon, Washington, California, Montana, and Nevada as well as the Canadian provinces of Alberta and British Columbia.
Bud Kaeding would pace the field in the first laps in the Morrie Williams owned Ten Down Bowling of Roseburg/B.Z.E. Enterprises/Alviso Rock #0 Maxim. The Campbell, California driver had some fast company behind him including Cottage Grove's Colin Baker. Baker would battle with Kaeding for several laps shortly after a lap five restart due to a caution. Baker would eventually seal the deal on the fifteenth circuit but would briefly get stuck in traffic only for a caution to come out giving him a clean open race track.
Baker would master the restart and would distance himself from the rest of the field. He would however enter some lapped traffic again but wasted no time getting around the slower cars. Colin Baker would hold on to win his first career ASCS-Northwest Region feature and become the third different winner in as many nights for Speedweek Northwest. With the win Baker and the Hedge Carter owned Huddle Automotive Repair/Steelhouse Metal Roofing Supply/Oregon West RV/Hedge Carter Gutter Service/Astro Titanium #71 XXX became the eighth different series winner in nine events in 2014.
"That was incredible," said an ecstatic Colin Baker in victory lane, "I had some of the best in the business behind me and to do it like that I can't say enough for my team Hedge, Tim, Bundy, and David. I thought it would be good to get out into the lead early at first but with Bud in front allowed me find the best line to run."
The Scott and Jason Finley owned Finley Farms/CLT Logging/Carlson Trucking/Rider Racing Engines #77 Maxim driven by Kyle Hirst of Chico, California was second followed by Rico Abreu from Rutherford, California in his Abreu Vineyards/Butler Built Seats/Alpine Stars/XYZ Machine/Shaver Specialties #24 A.R.T. in third. Bud Kaeding would cross the wire in fourth and completing the top five in fifth was Jonathan Allard of Chico, California in the Clyde and Marion Lamar owned Tri-C Machine/Butler Built Seats/Platinum Powdercoating/Red Line Oil #3C Maxim.
Winner of the four heat races were Nick Tomlinson from Veneta in his United Rentals/Jessica House at Beauty Boutique Salon of Roseburg/T-N-T Diversified #16 Maxim, Kyle Hirst, Bud Kaeding, and Andy Forsburg from Auburn, California piloting the Cody Gaeney owned PTShocks.com/Autism Awareness/Norm Paul Water Hauling/Alturas Tire/PitStopUSA.com #01 KPC. Winner of the consolation feature was Penngrove, California youngster Chase Johnson driving the Harley Van Dyke owned Lucas Oil Products/K&N Filters/Naake Suspension Specialists/Rodger Racing Engines #5H Maxim.
The American Sprint Car Series-Northwest Region will next venture to Willamette Speedway in Lebanon for the fourth race of Speedweek Northwest. Prices are Adults $15.00, Seniors/Military/Juniors (13-17) $13.00, Youths (Ages 12-6) $8.00, and Children under the age of 5 are FREE. Racing is scheduled to get underway around 7:00 PM. For more information log on to www.trophymotorsports.com.
Race Summary:
ASCS-Northwest Region Race #9/Speedweek Northwest Round #3
Tuesday July 1st, 2014
Coos Bay Speedway
Coos Bay, Oregon
A Feature: 1. 71-Colin Baker[2]; 2. 77-Kyle Hirst[3]; 3. 24-Rico Abreu[7]; 4. 0-Bud Kaeding[1]; 5. 3C-Jonathan Allard[13]; 6. 22M-Mason Moore[8]; 7. 01-Andy Forsberg[5]; 8. 37-Mitchell Faccinto[9]; 9. 9R-Reece Goetz[12]; 10. 3-J.J. Hickle[6]; 11. 94-Steven Tiner[15]; 12. 7N-Jared Peterson[14]; 13. 22-Garen Linder[11]; 14. 44-Kelly Miller[10]; 15. 72-Phil Dietz[19]; 16. 49-Mike Monahan[20]; 17. 5H-Chase Johnson[17]; 18. 12-Jared Ridge[18]; 19. 16-Nick Tomlinson[4]; 20. 55-Trey Starks[16]
B Feature: 1. 5H-Chase Johnson[1]; 2. 12-Jared Ridge[2]; 3. 72-Phil Dietz[7]; 4. 49-Mike Monahan[3]; 5. 21W-Vern Wheeler Jr[10]; 6. 4J-Allison Journey[5]; 7. 68-Rob Held[4]; 8. 27DD-David Hoiness[9]; 9. 26F-Shane Forte[12]; 10. 9A-Luke Didiuk[13]; 11. 6A-Kady Adelman[8]; 12. 96-Greg Hamilton[14]; 13. W5-Jesse Williamson[6]; DNS 5R-Steve Reeves
Heat 1: 1. 16-Nick Tomlinson[1]; 2. 44-Kelly Miller[2]; 3. 7N-Jared Peterson[3]; 4. 3C-Jonathan Allard[6]; 5. 12-Jared Ridge[5]; 6. 72-Phil Dietz[4]; 7. 27DD-David Hoiness[7]; 8. 26F-Shane Forte[8]
Heat 2: 1. 77-Kyle Hirst[1]; 2. 22-Garen Linder[2]; 3. 9R-Reece Goetz[4]; 4. 55-Trey Starks[5]; 5. 4J-Allison Journey[3]; 6. 68-Rob Held[7]; 7. 21W-Vern Wheeler Jr[6]; 8. 9A-Luke Didiuk[8]
Heat 3: 1. 0-Bud Kaeding[1]; 2. 22M-Mason Moore[3]; 3. 94-Steven Tiner[2]; 4. 24-Rico Abreu[7]; 5. 5H-Chase Johnson[6]; 6. 6A-Kady Adelman[4]; 7. 5R-Steve Reeves[5]
Heat 4: 1. 01-Andy Forsberg[1]; 2. 71-Colin Baker[2]; 3. 3-J.J. Hickle[3]; 4. 37-Mitchell Faccinto[4]; 5. 49-Mike Monahan[5]; 6. W5-Jesse Williamson[6]; 7. 96-Greg Hamilton[7]
Current ASCS-Northwest Region Points (Top Ten):
71-Colin Baker 1102; 2. 3-J.J. Hickle 1009; 3. 9R-Reece Goetz 977; 4. 68-Rob Held 942; 5. 77-Kyle Hirst 938; 6. 21W-Vern Wheeler Jr. 924; 7. 22-Garen Linder 860; 8. 16-Nick Tomlinson 765; 9. 6A-Kady Adelman 708; 10. 7N-Jared Peterson 692
Current Speedweek Northwest Points (Top Ten):
24-Rico Abreu 427; T 77-Kyle Hirst 427; 3. 71-Colin Baker 399; 4. 3-J.J. Hickle 337; 5. 01-Andy Forsberg 335; 6. 55-Trey Starks 323; 7. 37-Mitchell Faccinto 321; 8. 22-Garen Linder 310; 9. 5H-Chase Johnson 309; T 22M-Mason Moore 309
---
Submitted By: Ben Deatherage
Back to News