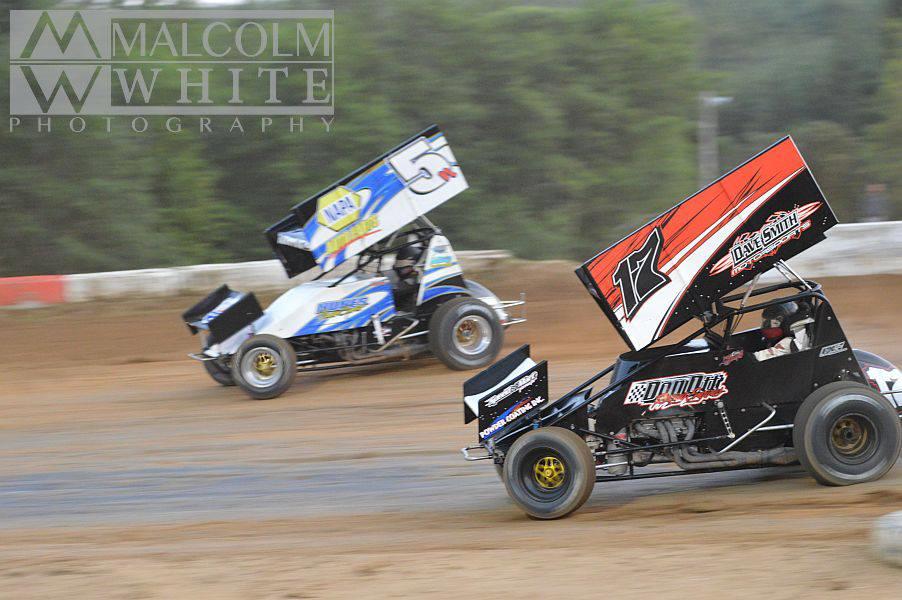 6/28/2014
ASCS Northwest Region
---
Coos Bay Speedway Continues Tuesday Night Speedweek Northwest Tradition
Coos Bay Speedway Continues Tuesday Night Speedweek Northwest Tradition
By Ben Deatherage
(Photo Courtesy of Malcolm White Photography)
Coos Bay, Oregon- Tuesday July 1st will be the night that the American Sprint Car Series-Northwest Region visits the Coos Bay Speedway for round three of Speedweek Northwest. It will mark the only time in 2014 that fans will see the series at the "Coastal Clay Oval". No one will ever forget last year's edition when Cam Smith kept all challengers at bay to win his first career ASCS-Northwest Region victory.
There have only been a total of five ASCS-Northwest Region events at Coos Bay. The last three years the only time the tour came to town was during Speedweek. In those five races four different drivers have visited the winner's circle. Roger Crockett leads the series win list at CBS with two triumphs while Henry Van Dam, Travis Rilat, and Cam Smith have won once.
Pit Gates will open around Noon, Front Gates 4:00 PM, and Racing scheduled to get underway around 6:30. Tickets are Adults $20.00, Seniors/Youths (7-17) $18.00, and Kids 6 and Under are FREE. A Family Pass is offered for two Adults and up to three Children $60.00.
Headed into the Speedweek there have been six completed events with ASCS-Northwest in 2014 producing five different winners. Seth Bergman leads the win column with two while Andy Forsberg, Jared Peterson, J.J. Hickle, and Henry Van Dam have all managed to pick up victories. In the point battle side of things Vern Wheeler Jr. leads by just two points over Colin Baker entering the first round of Speedweek.
Speedweek Northwest begins on Sunday June 29th at Siskiyou Motor Speedway in Yreka, California. Be sure and don't miss a lap of the action as the ASCS-Northwest Region as the area's best 360 Sprint Car drivers will contest on seven different race tracks in three different states that include Oregon, Washington, and California. For the latest news and information regarding the ASCS-Northwest Region be sure and log on to www.ascsnorthwest.com.
2014 Speedweek Northwest Schedule:
Sunday June 29th Siskiyou Motor Speedway (Yreka, CA)
Monday June 30th Southern Oregon Speedway (White City, OR)
Tuesday July 1st Coos Bay Speedway (Coos Bay, OR)
Wednesday July 2nd Willamette Speedway (Lebanon, OR)
Friday July 4th Cottage Grove Speedway (Cottage Grove, OR)
Saturday July 5th Cottage Grove Speedway (Cottage Grove, OR)
Past Speedweek Northwest Champions:
2013- Roger Crockett
2012- Mitch Olson
2011- Kyle Larson
2010- Roger Crockett
2009- Jesse Hockett
2008- Roger Crockett
2007- Shane Stewart
2006- Steve Kent
2005- Brent Kaeding
2004- Brent Kaeding
2003- Roger Crockett
2002- Steve Kent
2001- Steve Kent
2000- Steve Kent
1999- Brad Furr
1998- Bud Kaeding
Past Speedweek Northwest Winners At Coos Bay Speedway:
2013- Cam Smith on July 2nd
2012- Travis Rilat on July 17th
2011- Roger Crockett on July 12th
Past ASCS-Northwest Region Winners At Coos Bay Speedway
2013- Cam Smith on July 2nd
2012- Travis Rilat on July 17th
2011- Roger Crockett on July 12th
2010- Henry Van Dam on August 21st
2009- Roger Crockett on August 15th
Current ASCS-Northwest Region Point Standings (Top Ten):
21W-Vern Wheeler Jr. 705; 2. 71-Colin Baker 702; 3. 9R-Reece Goetz 683; 4. 68-Rob Held 673; 5. 3-J.J. Hickle 672; 6. 33V-Henry Van Dam 659; 7. 7N-Jared Peterson 586; 8. 23-Seth Bergman 555; 9. 22-Garen Linder 550; 10. 16-Nick Tomlinson 516
---
Submitted By: Ben Deatherage
Back to News